socks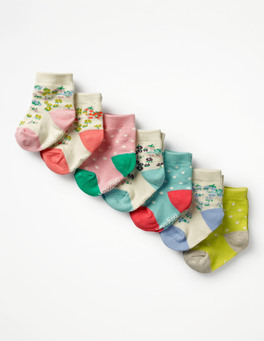 Is there any warmer feeling than pulling on a fresh pair of socks? We don't think so, which is why we designed these ultra-soft ones. They're decorated with eye-catching prints that are perfect for peeping out over trainers. Stretchy elastic means they'll stay put throughout all sorts of adventures.
MUL: Animals 74% cotton 25% polyamide 1% elastane, Stripe/Spot: 77% cotton 22% polyamide 1% elastane
Machine washable
$30.00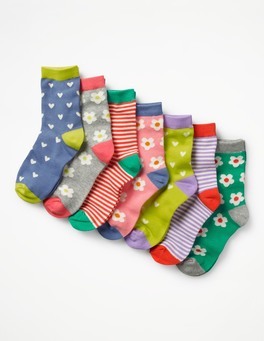 This box of cotton-rich socks is bursting with cheerful designs and bright colours. Choosing which pair to wear might not be so easy – but never fear, there's a pair for each day of the week. With their delightful packaging, they would make a perfect present, too.
MUL: Dogs/Green Spot 79% cotton 20% polyamide 1% elastane, Red/White Spot 70% cotton 19% polyamide 10% acrylic 1% elastane
MLT: Dinosaurs 70% cotton 29% polyamide 1% elastane, Red stripe 79% cotton 20% polyamide 1% elastane, Blue stripe 74% cotton 20% polyamide 5% acrylic 1% elastane, Green stripe 64% cotton 20% polyamide 15% acrylic 1% elastane
BLU: green stripe 56% cotton 22% polyamide 21% acrylic 1% elastane, rhino 78% cotton 20% polyamide 1% acrylic 1% elastane, other designs 78% cotton 21% polyamide 1% elastane
Packaged in a gift box
PNK: 78% cotton 21% polyamide 1% elastane
Machine washable
$34.00 $23.80